Stunning Luxury Enchanted Glowing Candles.
Perfect for you or to give as a gift.
Better for you, your home and the planet.
Luxury Scented Enchanted Glowing Candles are the perfect candle. The shell is made from a Natural Wax with a combination of Soy Wax and Real Flowers.
The quality and unique style made these a wonderful addition to your home and also make a beautiful gift.
Soy Wax Candles are a great eco-friendly alternative to paraffin candles. The choice to use soy wax is an easy decision: Soy Candles throw scent beautifully and are better for you and the planet. Soy Candles also burn 30-50% longer and do not contain the toxins that paraffin candles have.
After burning the soy wax inner candle,  the outer shell can be used with nightlights as a candle holder.
Enchanted Glowing Candles are also an excellent eco friendly gift for your friends and family for any occasion.
If you are used to more strongly fragranced candles (artificial fragrance) you will probably find they don't smell any where near as strong.
The larger ones seem to have a much stronger smell than the small ones.
100 % Natural Wax,  Soy Wax
100 % Natural Flowers
Always keep a burning candle within sight.

 Extinguish all candles when leaving a room.

 Only Burn the Candle to within 2 cms of the base. The beautiful outer can then be reused with a tealight candle.

Ensure the candle is stood upon a ceramic dish or something similar. Do not stand directly onto the surface of your furniture or worktop.
Want to know more about Soy Candles? Then read my blog HERE!!
Large Bowl Candle 
Size: 12×7 cms
Weight: 0.45 kg
Materials/Ingredients: Wax, Soy wax, Real Roses/Lavender, Essential Oil
Large Square Candle         
Size: 10 x 10 x 10 cms
Weight: 0.7 kg
Materials/Ingredients:  Wax, Soy wax,  Real Lavender/Roses, Essential Oil
Small Square Candle 
Size: 7 x 7 x 7 cms
Weight: 0.3 kg
Materials/Ingredients: Wax, Soy wax, Real Roses/Lavender, Essential Oil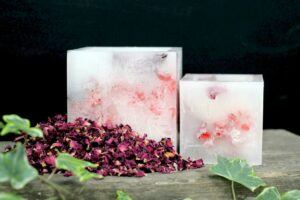 The Rose Bowl candle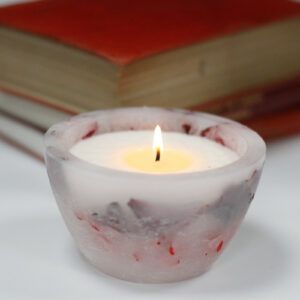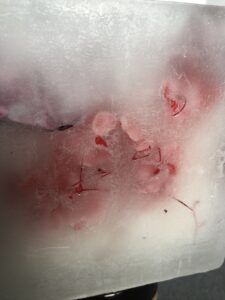 A close up of some petals on one side of the Large Square Rose luxury candle. 
These candles are so beautiful, the pictures don't really do them justice, so I decided to try a close up of my candle, so you can see it better.
Obviously every single one is different with the petals in different places, but you get the idea.
If you have any questions, please don't hesitate to ask.